When you work from home, having a comfortable and pretty workspace is important.  But you may not want to spend a lot of money or you may not have a lot of space to work with. This was my dilemma. So, I decided to build a custom office desk that fits my individual style. It gave me the room I needed so I wasn't crowded into a small area. I literally made this in one day and it only cost me $120.00.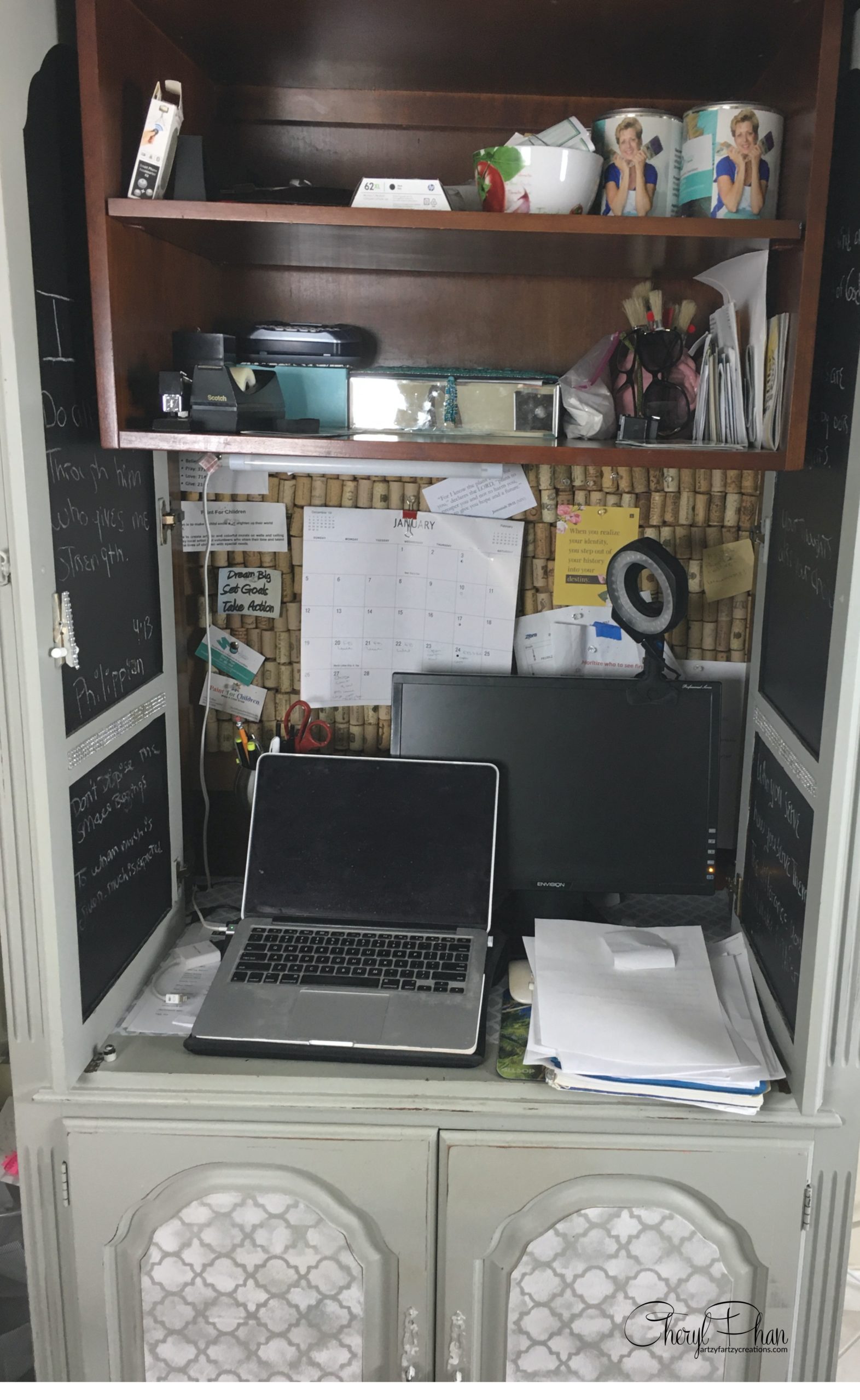 Before I show you the new desk I made, I wanted to show you the desk I was using.
This is what I call an office in a box. I make this several years ago out of an armoire I bought in a thrift store. This is a great idea if you are limited on space and you want to close it up at the end of the day to hind the mess. But as you can see, I was growing out of it. If you're interested in making one here's a blog on how I made it.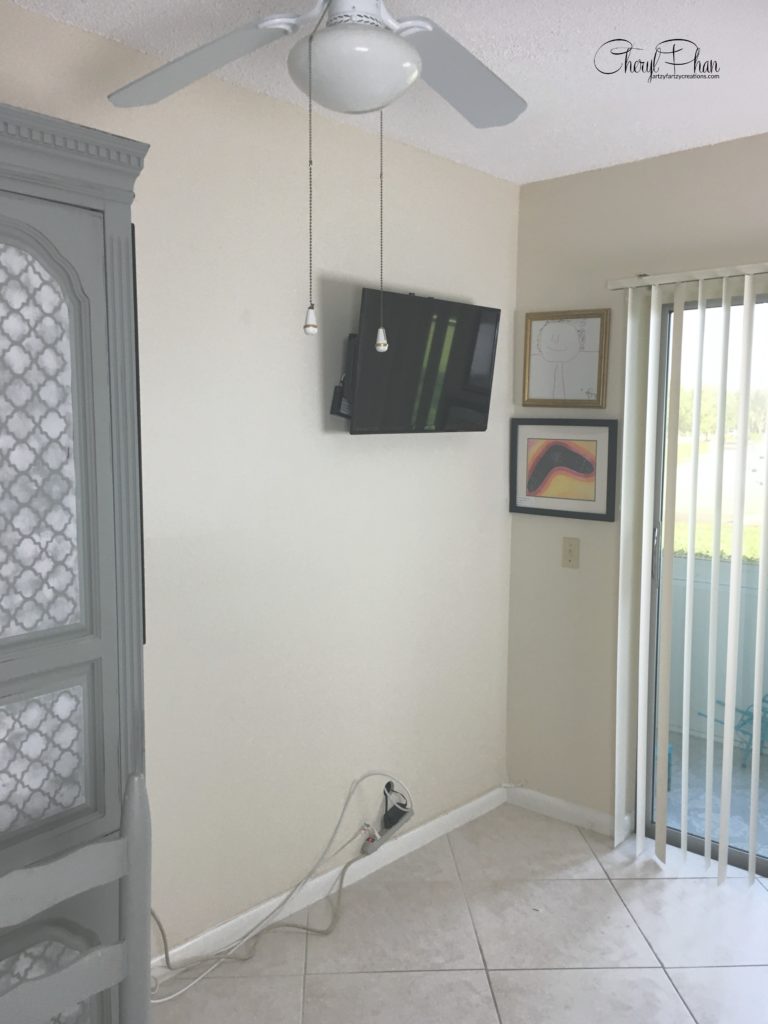 This is the space I had to work with. I didn't want a big desk that took up the entire room or exceeds the space from the wall to the sliding glass door. The space I was working with was 81" long and only 19" deep. So, I had to get creative.
I needed a desk that would hold my computer and monitor and gave me enough room to write. I also wanted a file cabinet to store my paperwork and office supplies. OH, and I budgeted myself $150.00.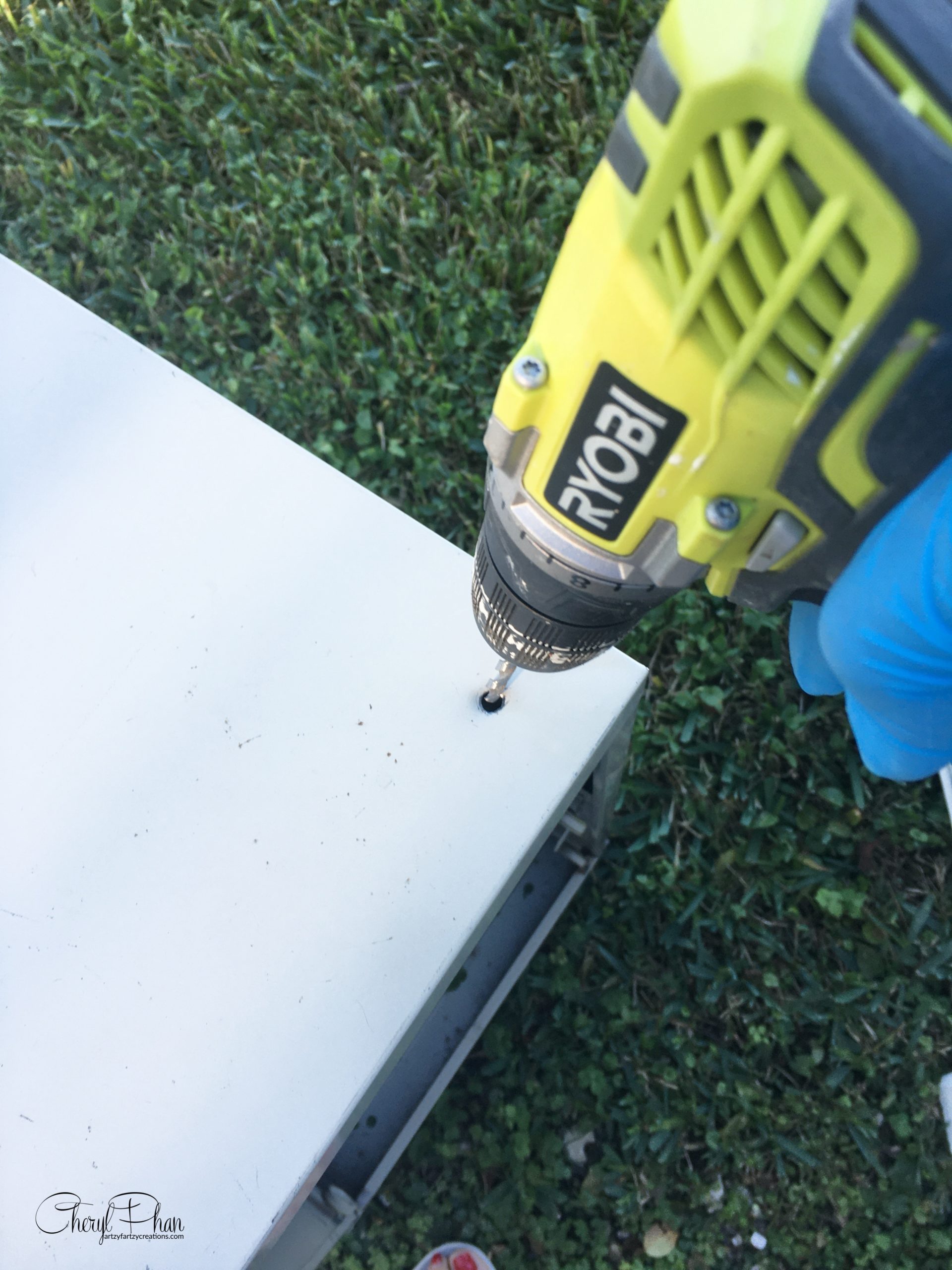 So, the first thing I did was look for a file cabinet that was 29" high. Unfortunately, I couldn't find one for under $50.00. So, I bought one at Goodwill for $10.00. That was 25" high and added 4" bun feet to get the Height that I needed. You'll see as you keep reading.
This meant I had to drill holes in the corners of the file cabinet so I could screw them in. You will need an electric drill and metal drill bits.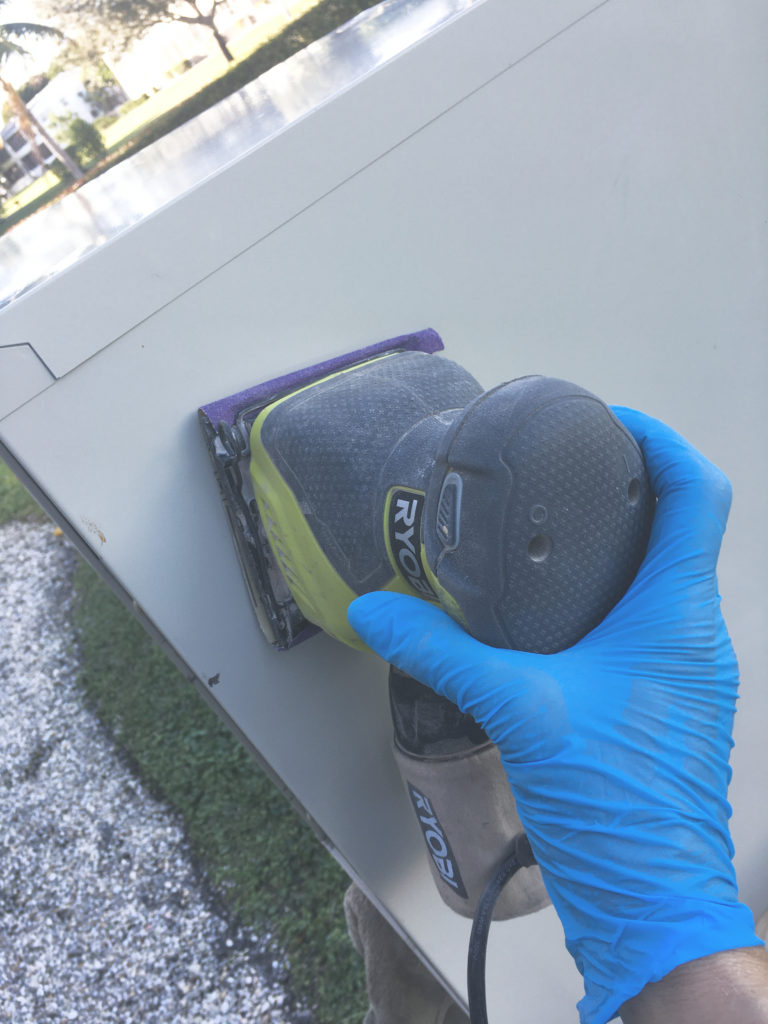 After I drilled the holes, I sanded the file cabinet to give it some tooth so the paint would adhere. You will need an electric sander and medium-grit sandpaper.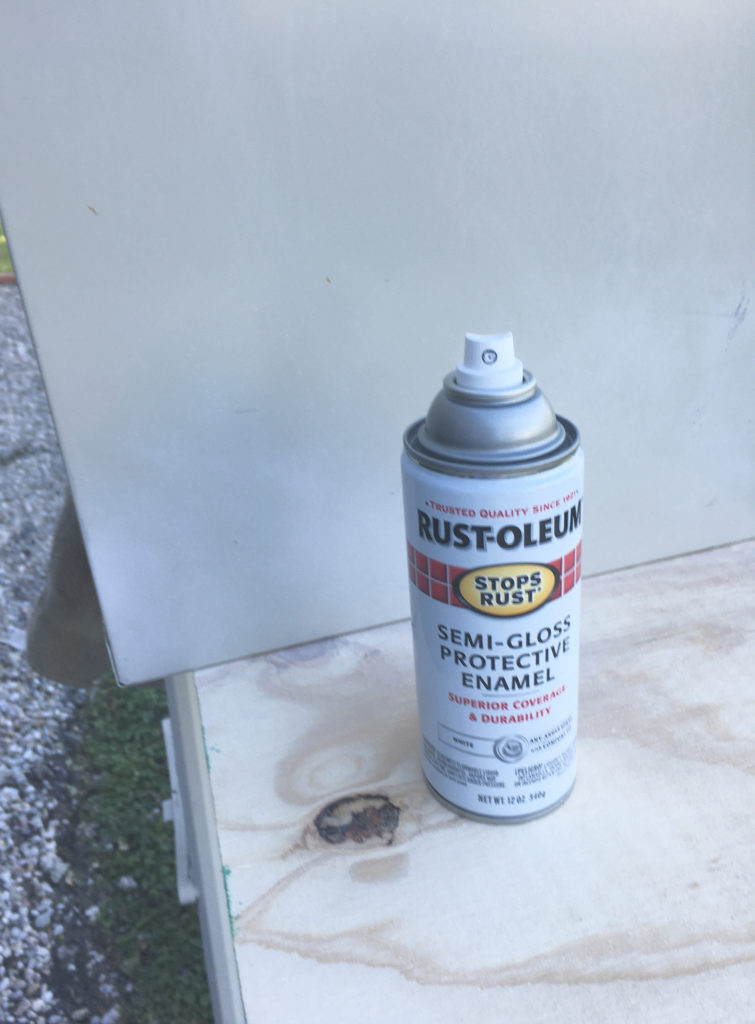 Once it was sanded, I spray painted the cabinet with semi-gloss enamel spray paint and let it dry.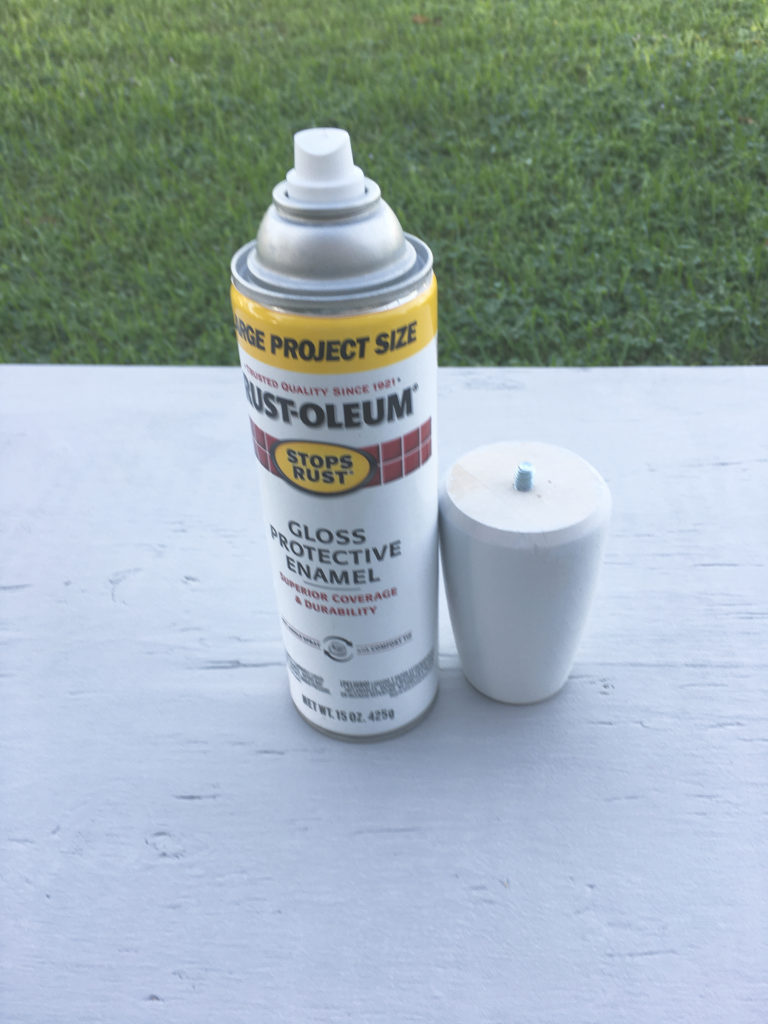 Next, I spray painted the bun feet with the same enamel spray paint.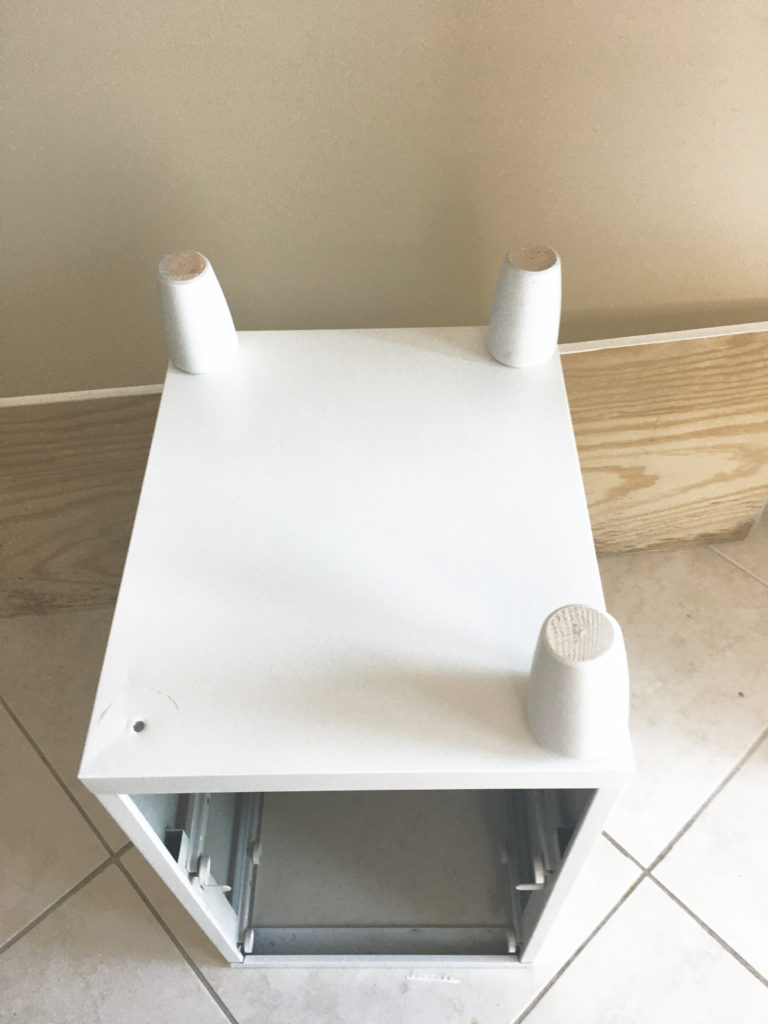 Once everything was dried, I simply screwed the bun feet in the holes.
I decided to put the bun feet on top of the cabinet, but you can also put them on the bottom.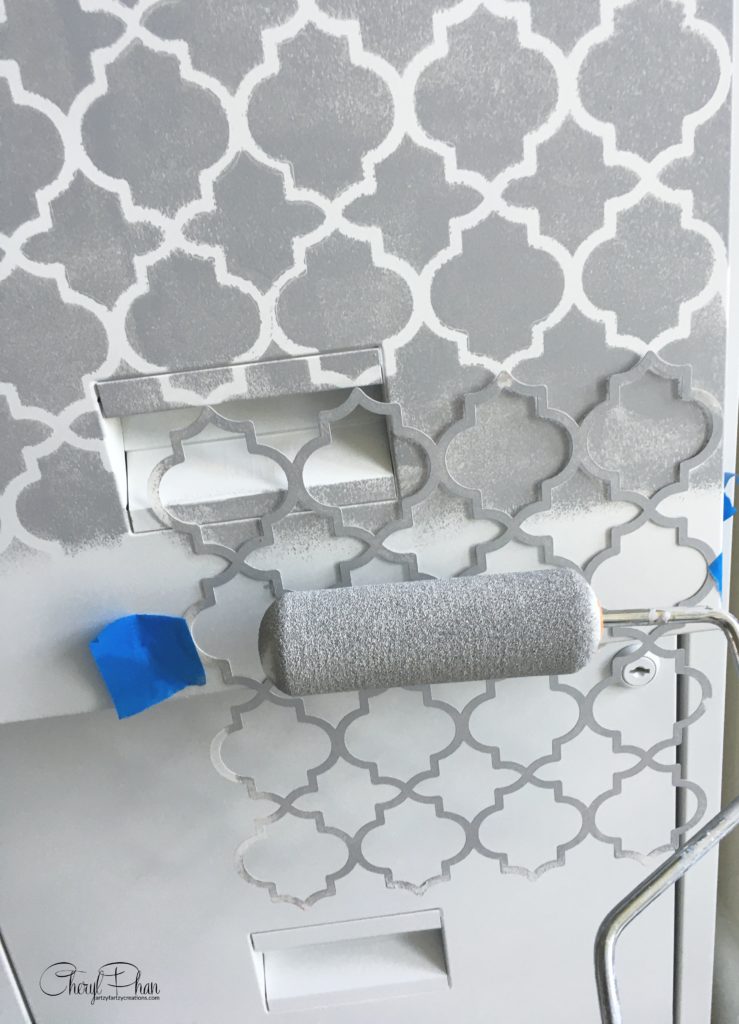 Lastly, I paint the two drawers with a stencil design.
I used latex paint and a sponge roller to apply the paint.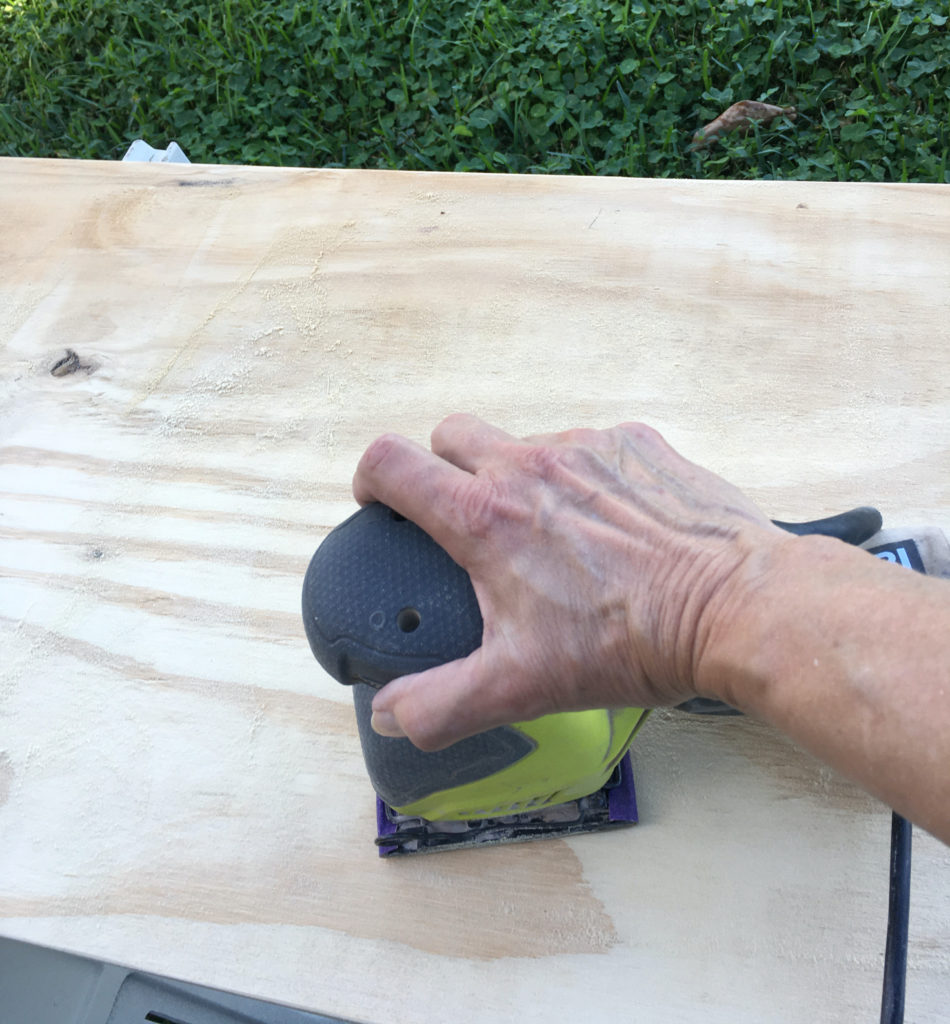 For the desktop, I used heavy plywood. It needed a little sanding to smooth out the rough edges. I used medium grit sandpaper.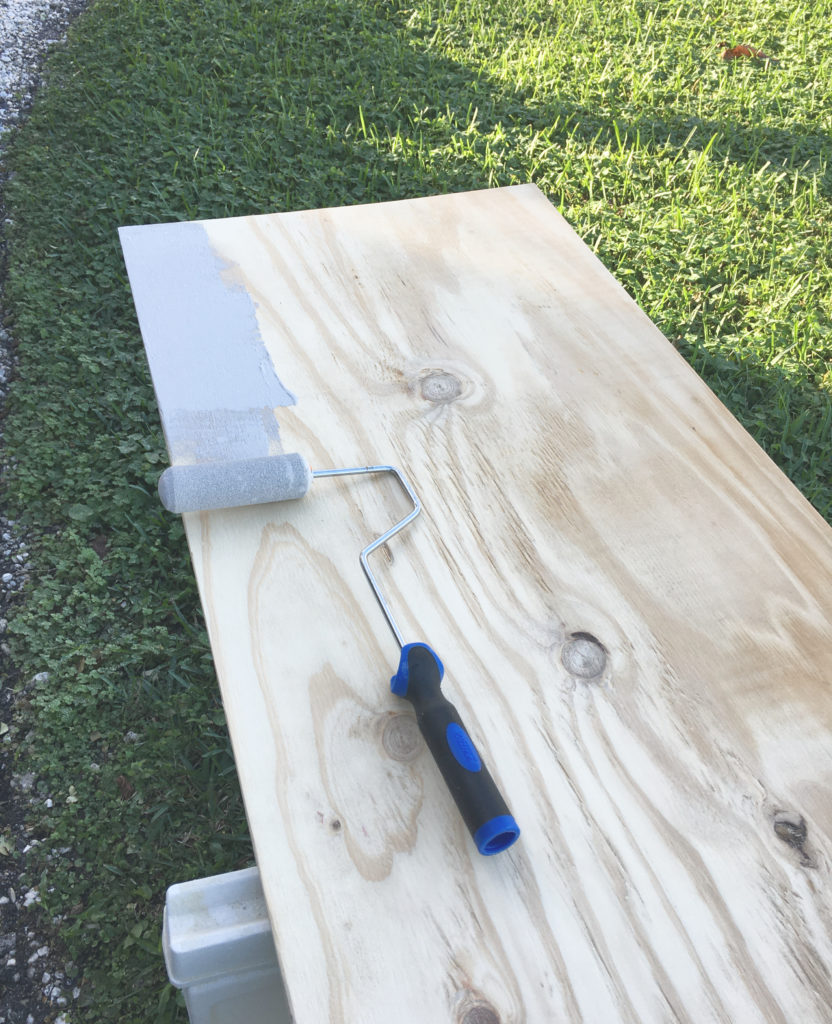 Next, I painted the plywood with a primer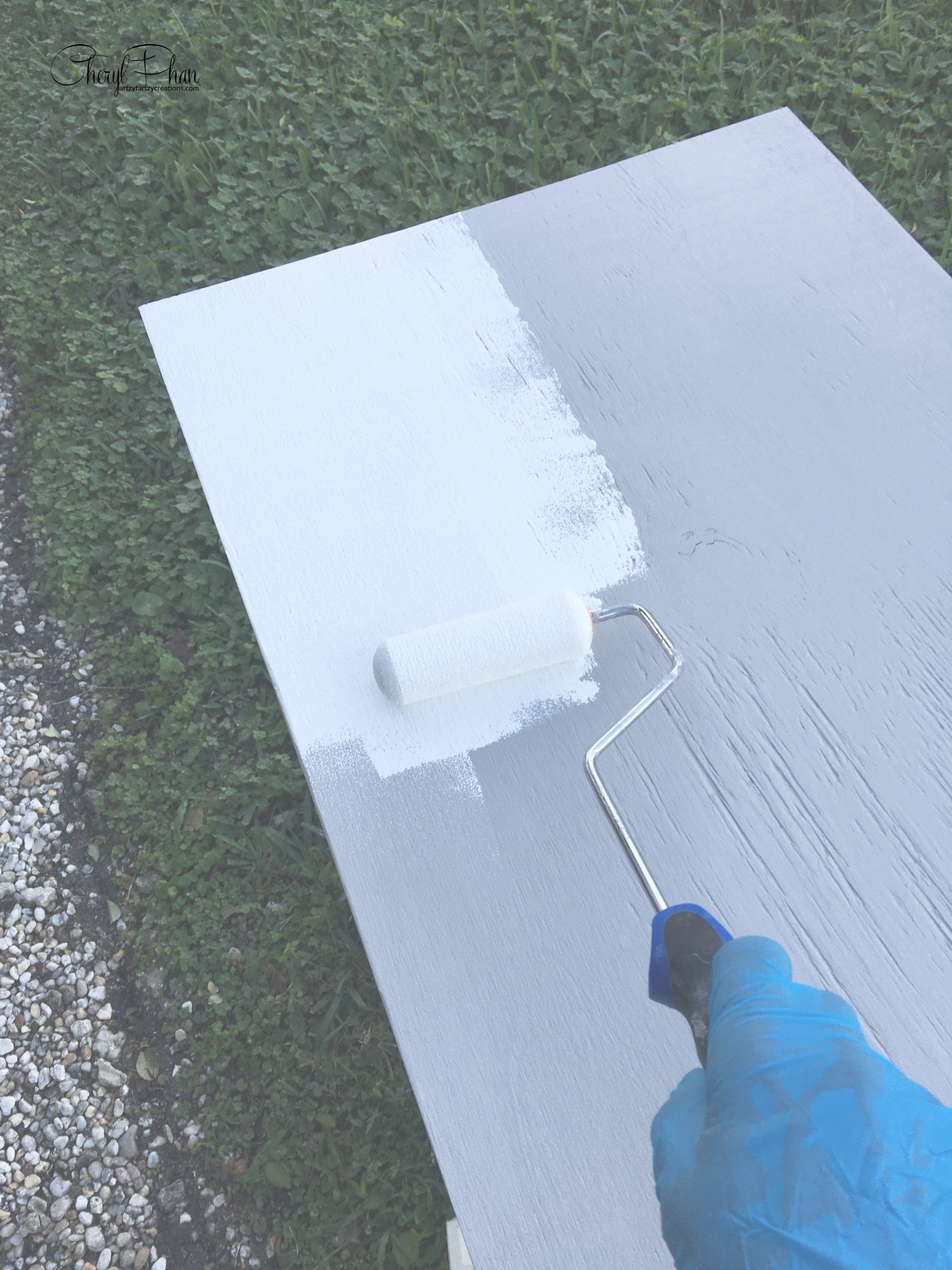 Once the primer was dry, I painted it with two coats of Benjamin Moore Advanced paint. I love this paint. It dries nice and even and it's very durable.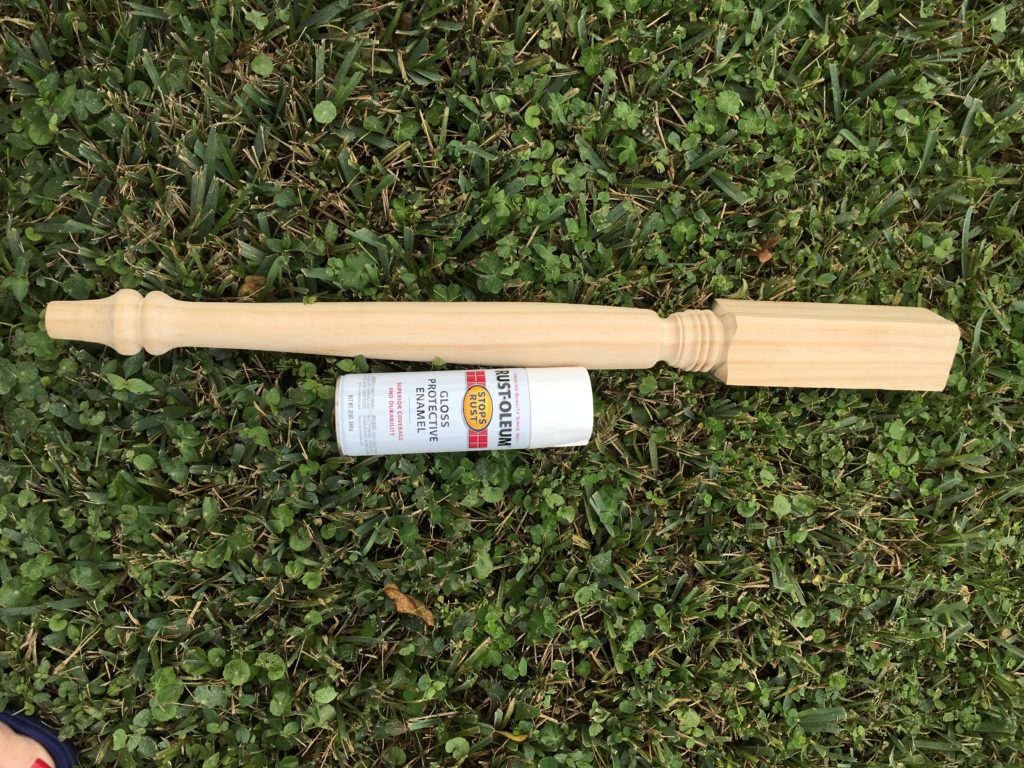 You will need two 29" wood legs.  I spray painted them with the same semi-gloss enamel spray paint.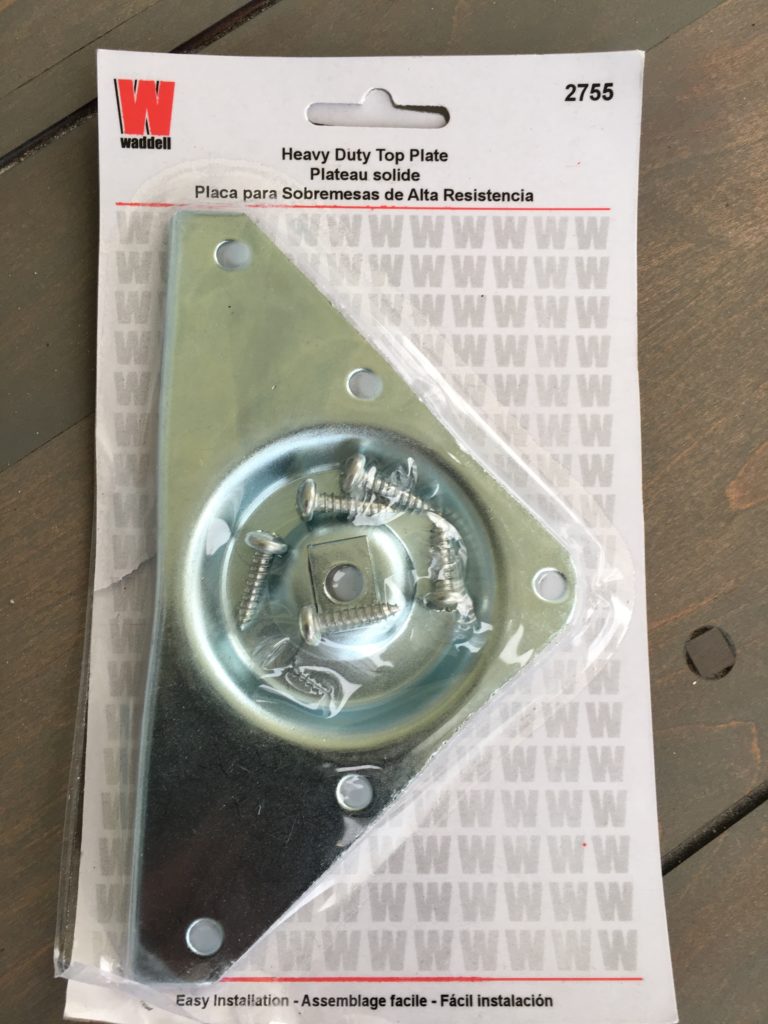 To attach the legs, you will need two Heavy Duty Top Plates.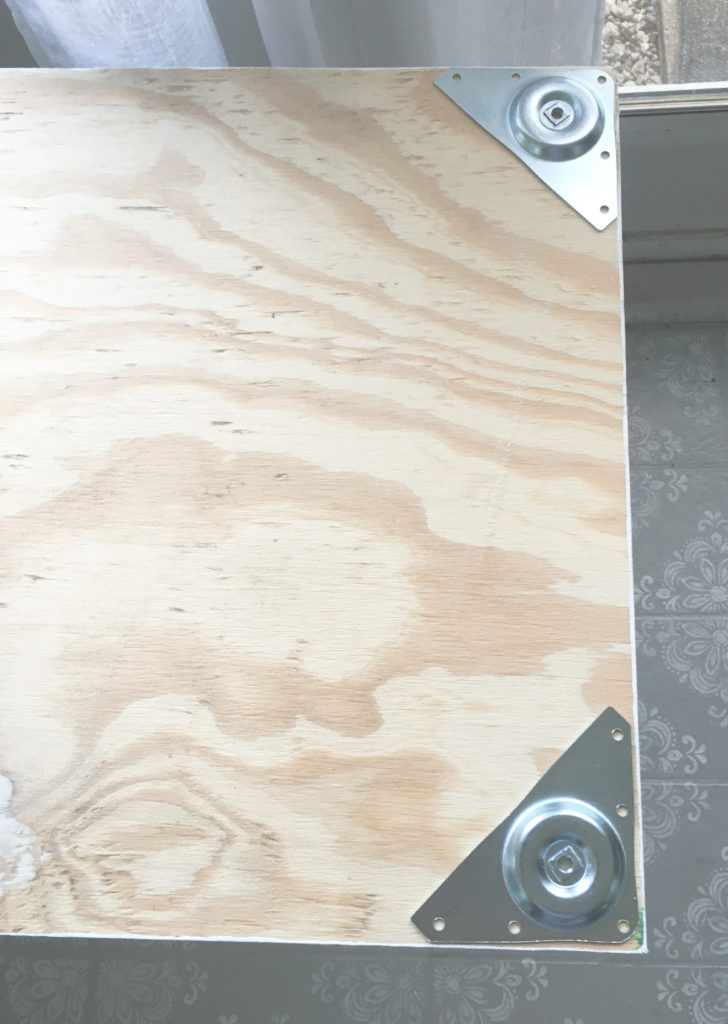 Just line them up to the corners and screw them in.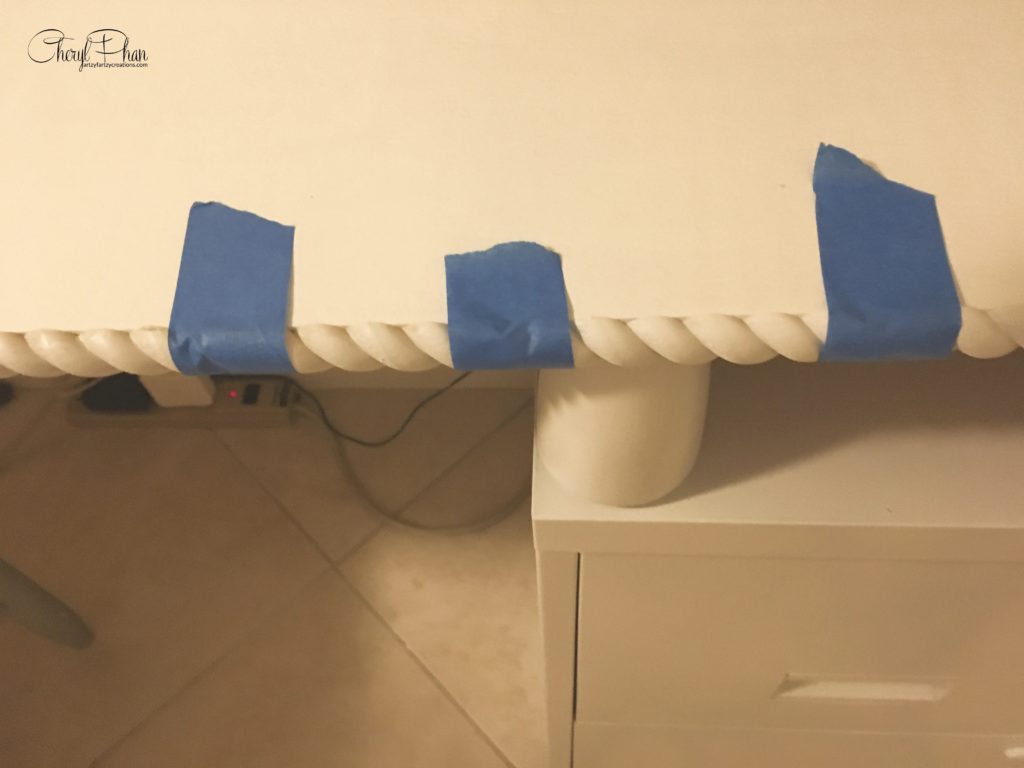 For the final touch, I added the rope molding to the front of the desk because I didn't like to raw edge.
This is the perfect desk for my home office.
Simple, clean and super easy to make. I literally made this in one day.
Are you looking for more DIY budget-friendly projects? Sign up for my weekly blog and I'll send it right to your inbox.
P.S. If you're ready to turn your passion into a paycheck and struggle with how to use social media and tech to grow your business?  Join my monthly FB group Empowering Women. I'll show you the short cuts.
Blessings
Cheryl
nbsp;