FREE Resources

Get started with the basics

My Gift to you
This Ebook was designed to help you get started and is a quick peek into the First Things First course "How To Turn Your Passion Into A Paycheck in 30 Days". The FTF COURSE teaches you everything you see below,  in-depth video training, resources, tip & tricks, and easy-to-follow action steps to guide you through the process without the overwhelm. I also cover how to grow your email list, build your social media following, how to set up payment processing and more.
My FREE eBook covers:
Treat your hobby like a business
Creating a name for your business
Securing a domain name
Creating a Facebook page
Obtain a license
Register your business
Structure your business
Open a bank account
Insurance & bookkeeping
Designing a Logo
Creating a slogan
Website
My First Things First E-book will help you turn your hobby into a LEGIT BUSINESS.
FREE Download – Here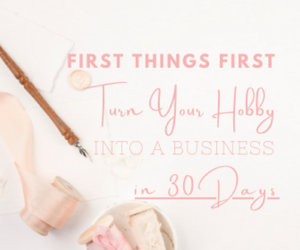 50 Online Business Ideas for the 50+ Woman
What talent do you have that you could turn into a business?
Here are 50 business ideas that will help you discover your hidden talent.
First Things First Mini-Course
In this 5-day Mini-Course, you will learn the first 5 steps your need to do to turn your hobby into a legit business.
I'm going to share the first 5 modules from my "First Things First" course for FREE.
You will walk away with a step-by-step plan, strategies, and resources to get you started on your new journey and on your way to becoming an entrepreneur.