For years I had two big clunky monitors on my desk that took up every square inch of workspace. Not to mention all the wires needed to make it work.
When you work from home, and you're on the computer as much as I am, you need a workspace that is clutter-free.
So, one day, I was searching on Amazon for an alternative and found this Triple Screen Monitor that I could attach right to my laptop. I thought I had died and gone to heaven.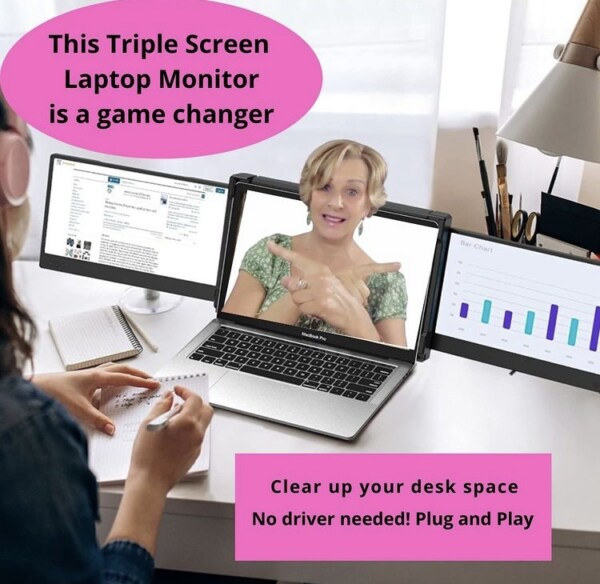 Let me just tell you what a Game Changer! It was so easy to hook up. Seriously, all I had to do was adjust it to the screen on my laptop, plug it in, and go to work.
Plus, it folds up for easy travel. Before I bought this Tripe Screen Monitor, I would have to take my old monitors with me and try and figure out how to put it all back together when I got to the hotel.
Now I just fold it up and plug it into the computer.
If you like to multi-task, need more than one screen, and need to free up space on your desk, this is the Bomb Dot Com.
Hope you found my triple screen monitor post helpful.
XOXO
Cheryl

nbsp;
P.S. Are you ready to turn your hobby into an online business?  Get the details HERE.
P.S.S. Don't forget to grab my Bi-Weekly blog, where I share my best business tips and strategies.