ORIGINALLY POSTED BY CHERYL PHAN ON HER FAUX FINISHING BLOG
Increasing your Likes on your Business Facebook page can feel like a lot of work if you're not sure what to do.
In this blog, I'll be sharing 3 ways you can ask people from your personal profile (and their friend) to like your page right from your phone and your computer.
First of all, I want to start out by saying, if you don't have a business, you will need to get a business Facebook page. Posting business on your personal page is taboo and against Facebook's Terms of Policy.
The only way you can get people to like your page is by inviting them to do so. On your personal page, you are asking people to be your friend and you are only allowed 5,000 friends on that page. As for your business page, you are asking people to like your page and you can have an unlimited number of likes. But how do you get people to like your page?
Once your friends accept your friend request on your personal page you can now ask them to like your business page.
I'm going to show you three different places you can go on your profile to start building your page likes.
Related post: 64 Facebook Post Ideas to Fill Your Posting Calendar
#1 Insights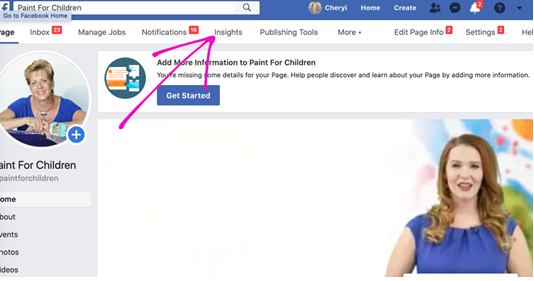 On your business Facebook page go to INSIGHTS at the top of your page.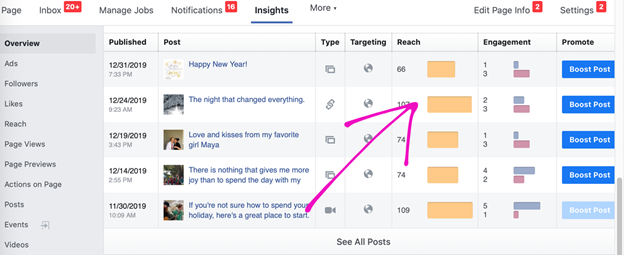 Scroll down to OVERVIEWS and look for your posts. Click on the post. It doesn't matter if you have 1 or 50  post "LIKES". Click on the link to open the post.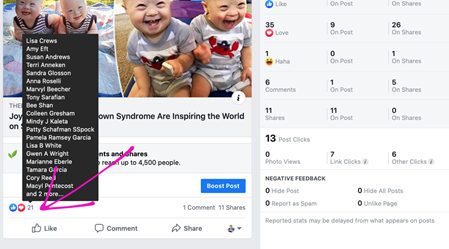 Then, under the post, you will see the thumbs up and heart sign. When you click on this all the people that liked your post will appear in a black box. Click on the black box.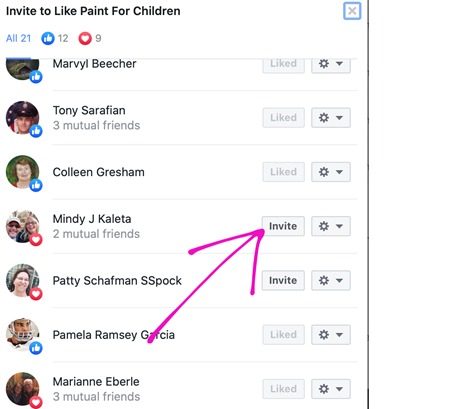 Another dropdown will appear. The boxes that are highlighted that say "INVITE" are the people that are your friends but have not liked your page. This is where you can invite them.
Click on "invite" and watch your Facebook page grow.
#2 Community
Here's another way you can invite friends. I use this method on my phone when I killing time waiting at the doctor's office. By the way, this is a great time to message people, share posts and share posts to increase engagement.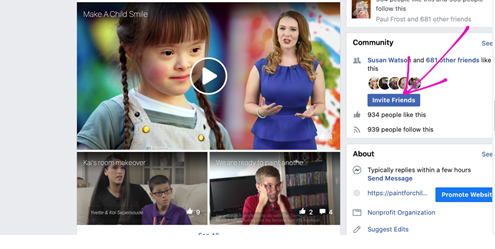 On the left side of the page scroll down and click the blue box that says "INVITE FRIENDS".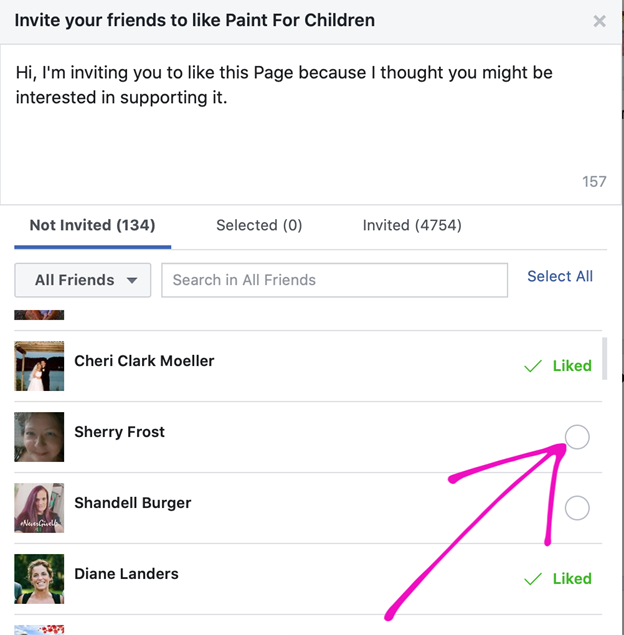 A drop-down will appear like this. Scroll down and look for the empty circles and click on them. When you get to the end it will ask you to send them.  TIP: don't do more than 5o at a time (I'm not sure of the exact number) but if you do to many Facebook will look at it as spam.
#3 Visitor Page
This is the 3rd way you can invite your friends to like your page.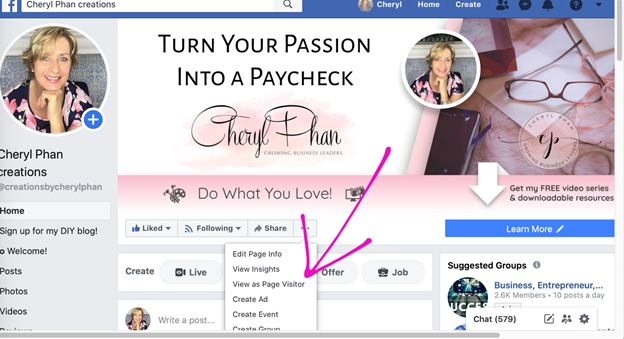 Open your business page and click on the 3 little dots in the corner. This drop-down will open. Click on "VIEW AS PAGE VISITOR"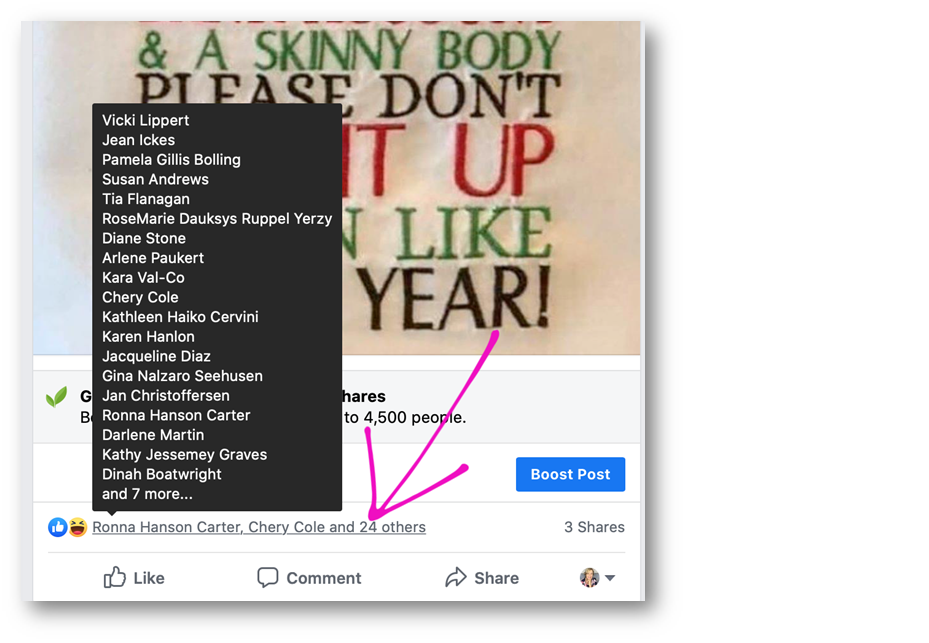 Go to a post (any post) that you want. Click on this area where you see the thumbs up and emoji. A black box will appear with all the people that liked that post.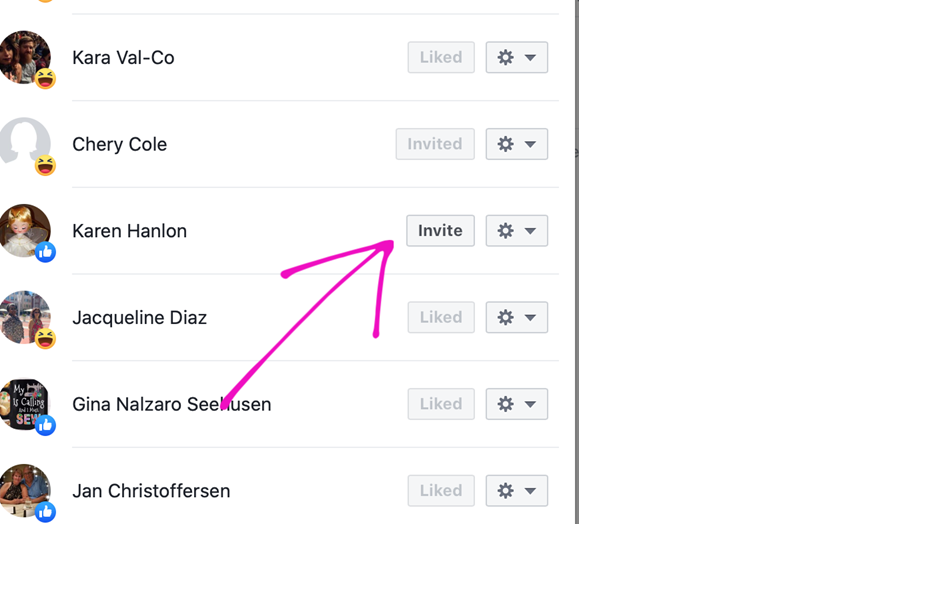 Lastly, click on the box that says INVITE.
Then sit back and wait for your friends to like your page.  I had over 200 likes on my page in just 2 days by doing this hack. It's that simple, just ask.
Have you liked my Facebook page yet? If not, do me a favor and go in and like my page, then message me your page so I can like yours.
P.S. If you're ready to turn your passion into a paycheck and struggle with how to use social media and tech to grow your business?  Join my monthly FB group Empowering Women. I'll show you the short cuts.
Blessings
Cheryl