ORIGINALLY POSTED BY CHERYL PHAN ON HER FAUX FINISHING BLOG
How to Build an Email List: Six Strategies to Grow Your Subscribers
Are you needing a little help building your email list?
Building your email list of potential customers is probably the most important aspect of your business. Without clients, you wouldn't have anyone to sell to. List building is a never-ending work in progress but very important when growing your business.
Related Post: Subject Lines That Get Your Emails Opened
So how do you find these prospects? How do you get them to sign up for your email? I want to help you learn how to build an email list so your business can thrive!
How to Build an Email List
Here are a few quick tips that will help you get started:
#1 Marketing tools
If you're going to have an email list, you need an email marketing tool. These tools help keep your email list organized and help you automate your newsletters and blogs to your prospective customers.
There are many to choose from. If you're just starting out there are many that offer a free trial. You need to do a little homework and find one that works for you.
I suggest these to start:
Aweber  https://www.aweber.com/pricing.htm
Mailerlite https://www.mailerlite.com/invite/cd6f7764a19a5
Get Response https://secure.getresponse.com/pricing/en/
Mailchimp https://mailchimp.com/pricing/
#2 Add an opt-in form to your website
With email marketing tools, you can generate HTML code for an opt-in form to be inserted into your website. It's always a good idea to place email sign-ups in more than one place, adding a form to the bottom of your homepage is a good place to start.
"Sign up for our emails!" isn't the most captivating offer for people who are already inundated with emails. Instead, give a brief description of what they can expect when they receive your email. Here's an example of my opt-in form.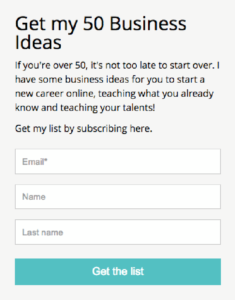 #3 Invite contacts and customers to sign up for your list
Everyone starts from scratch when building an email list, but if you're consistent your list will grow over time. Be sure to invite people you know or simply invite your family to sign up for your emails, this is a good start. Having subscribers will help you get in the habit of optimizing your tools and strategy as you grow.
If you've been in business for a while, send an email to current and past customers inviting them to opt into your list plus post an invitation on your business Facebook page and other social media platforms that you use. Only send emails to customers who want to hear from you. You CANNOT just send email to anyone you want, it's the law. In the United States, the CAN_SPAM ACT  makes it illegal to send unsolicited, commercial email in bulk. 
#4 Network in person
When you're at networking events let people know how they can get more information on your business. If someone is interested in your products or service simply ask them if they want to subscribe. Tell them what they can expect, how often they will receive the information, and what's in it for them.
#5 Use a pop-up
Not everyone may see your opt-in at the bottom of your page or maybe they just didn't scroll down far enough. By adding a pop-up form they can't miss it. I would suggest timing your pop-up to so that it appears approximately 15-20 seconds after they view the page. Give them a little time to look around.
#6 Create a downloadable content piece
To get visitors to enter their email address, it's best to give them something in return. I find that people will be willing to give their email address if you give them a piece of high-quality content: e-book, infographic, checklist, cheat sheet, or something of value.
For a content piece to be valuable, it should be something that helps them with a problem. Like a guide, or a tutorial.  It could also be information related to a solution while positioning you and your company as the experts. 
Canva is a great tool that can help you design a content piece with free photos and graphics.
Hope this article about how to build an email list was helpful. If you would like more business tips and budget-friendly DIY decorating ideas sign up for my weekly blog, and I'll deliver it right to your inbox.
If you want more tips for reaching more fans and paying customers, read my article on Facebook boosting here.
I help women create a beautiful home on a budget and turn their passion into a business. I'm here to serve and help you turn your dreams into reality. Sign up for more of my creative business tips here.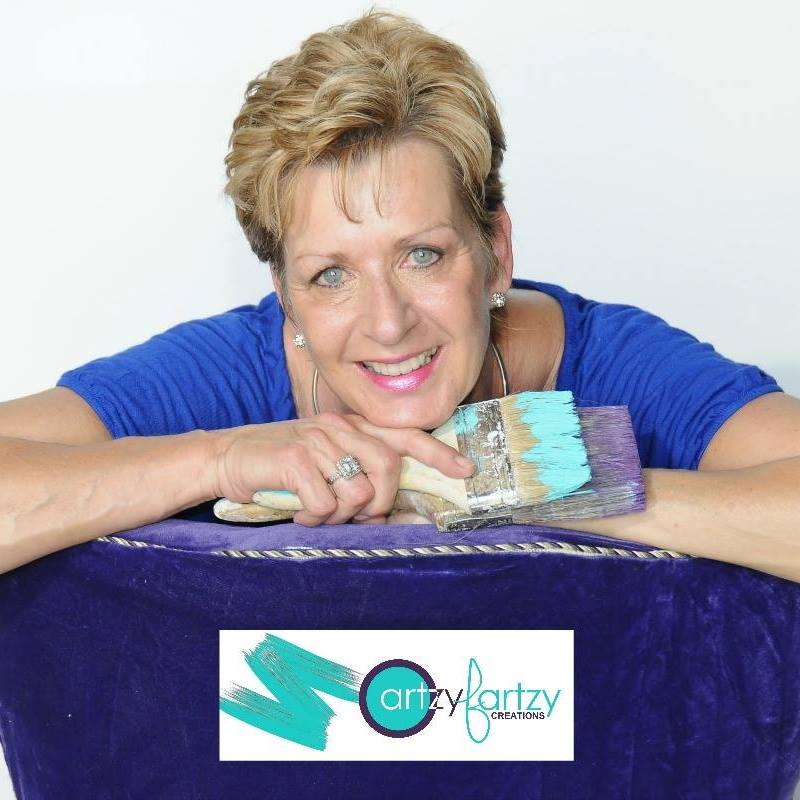 Don't forget to follow me on Facebook for more DIY budget-friendly projects, live videos, and business tips!
Please share my Strategies to Grow Your Email List pin and visit me on Pinterest for more DIY projects & painting tips!